Curry History
History of Curry Automotive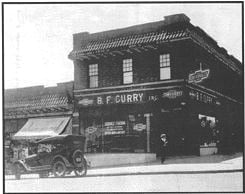 Our history covers over ninety years of continued growth, progress, and service to many communities.

 If you're shopping for a new, used, or certified pre-owned Acura, Chevrolet, Honda, Hyundai, Nissan, Genesis, Subaru, Toyota, Mercedes-Benz or Sprinter, then you need to look at our huge selection of cars & trucks.
In 1919, Curry, Sr. founded the first Curry automobile dealership in New York City. Under his vision and early leadership Curry  Automotive has had 10 decades of growth and success.  Curry Automotive is now a Nationwide Automotive retailer with 750 employees in 15 factory authorized franchised new car dealerships in four different states. There are currently franchises in New York, Massachusetts, Georgia and Connecticut.
1919
Curry Chevrolet, the first Curry dealership, opens in New York City. The Curry Chevrolet Sales and Service Center soon becomes one of the largest Chevrolet sales and service centers in the world.

1920s
It is the Roaring 20s and the retail automotive business is evolving at a fast pace. To meet the demand for a growing industry, Curry Chevrolet moves into larger facilities located at 133rd Street and Broadway in New York City. This new location facilitated the growing customer base of sales and service that the original location had created. There was now a need for parts storage and service customer waiting areas. The new location provided room for growth.
1930s
During the Great Depression, President Roosevelt's New Deal, an economic stimulus plan focusing on public works projects, is implemented. The New Deal created a need for commercial vehicles. Prior to the stock market crash in October of 1929, Curry Chevrolet was a supplier of fleet vehicles to various New York State and New York City Highway Departments. This fleet vehicle expertise enables Curry Chevrolet to become a key supplier of fleet vehicles for the New Deal Public Works Projects. Fleet vehicle sales provided Curry Chevrolet the opportunity to survive The Great Depression. B.F. Curry expands into Bronx County, New York. The Bronx Locations offered more space for new and used vehicle storage to meet the demand as the depression came to an end.
1940s
The Post World War II economic boom (1945-1972) created an unheralded demand for commercial and personal vehicles. As the country went back to work and businesses grew Curry Automotive explored a new concept of vehicle merchandising. The Curry Corporation was formed in 1947 for the purpose long term vehicle leasing, a new concept for its time. Vehicle leasing gained in popularity and practicality to become a standard practice in new car vehicle merchandising decades later. The Curry Corporation leased tens of thousands of vehicles throughout the United Sates throughout the economic boom that lasted into the early 70s.

1950s
Curry Chevrolet expands into Westchester County as the storied Curry Chevrolet facility on Central Avenue in Scarsdale opens. B.F. Curry Jr. is now a prominent figure in the organization under the tutelage of his father. The dealerships iconic design featured sprawling 30 foot windows and 50s deco exterior with scripted art deco illuminated signage. The adjacent parking facility featured a drive in style outdoor covered vehicle area. The Chevrolet facility was completely renovated in 2013 employing local union trades people. The new facility was built to conform to the new standard of facility requirements by General Motors. The original 1958 building signage that was in place for 57 years was removed and refurbished. This original iconic sign is proudly displayed inside the 2013 constructed showroom as a reminder of the historic significance of this storied Chevrolet franchise.
1970s
A motorcycle franchise is purchased and a year after this acquisition another dealership was opened which is now Curry Honda in Yorktown Heights, New York. Curry Honda in Yorktown Heights has been awarded the Honda's President's Award 15 times. The Honda President's Award is the highest honor a Honda franchise can receive from the manufacturer. Having received this honor 15 times ranks Curry Honda in the top 1% of all Honda dealers in the entire county.
1980s
A Dodge franchise and facility is opened on Central Avenue in Scarsdale. Scarsdale Dodge became one of the largest Dodge dealerships in the New York Region. In 1982, an expansive Honda sales and service facility opens in Chamblee, Georgia; a northern suburb of Atlanta. The Curry Honda dealership in Georgia is now one of the largest and most successful Honda dealerships in the Southeastern United States. In 1988, Curry Acura opens on the former site of Scarsdale Dodge. The facility is totally renovated for the opening of Curry Acura. Curry Acura has been awarded Acura's Precision Team Award for outstanding sales and customer satisfaction 10 times. Curry Acura now ranks in the top ten of all Acura dealerships in the entire country for Acura sales and customer satisfaction.

1990s
Curry Honda in Chicopee, Massachusetts opens. The Curry Honda dealership in Chicopee was totally reconstructed in 2011 with a state of the art facility. This 10 acre site also has a full service stand-alone factory recognized Auto Body Repair facility.
2000s
Since his graduation from college B.F. Curry III has held various dealership and executive management positions within Curry Automotive organization. In 2004 B.F. Curry III took over as CEO. Under the direction of new CEO Bernard F. Curry III, Curry Automotive, acquires the Geis Auto Mall in Cortlandt Manor in Northern Westchester County, New York. This acquisition adds Toyota, Hyundai, and Nissan to the Curry Automotive portfolio making Curry one of the largest automotive dealer groups in the Hudson Valley Region.
2010s
In spite of a worldwide recession and the financial meltdown of 2008, which severely impacts the U.S. economy, Curry Automotive comes out of the biggest recession since the Great Depression of 1929 in a growth mode. This expansion model is facilitated through the impeccably well-timed execution of industry insight and expertise by the dedicated and congenial General Managers at each dealership alongside the Curry Automotive Executive Committee. Curry Automotive is positioned to expand and does. Curry Automotive makes difficult yet necessary business plan modifications during a seven year period that positions the Curry Organization in the growth mode to acquire dealerships when the opportunity is presented, as well as renovate and upgrade their franchises. In December of 2010, Curry Nissan in Chicopee, Massachusetts opens. The Nissan dealership is added to the same 10 acre site as the Honda Franchise. During 2011-2012, three new facilities are constructed on the 7 acre site located on Route 6 in Cortlandt Manor in northern Westchester County, New York. The two year project was completed by local union trades people. The new facilities are home to Curry Hyundai, Curry Subaru and Curry Toyota. The new 7 acre complex is one of the largest single point automotive retail location from New York City to Albany, New York. Remarkably these new facilities are LEED®-Registered Car Dealerships, making them the area's first green automobile dealerships. Curry Automotive has a made a commitment to be environmentally conscious in all business practices. In November 2012, Curry Honda in Chicopee, MA opens a newly renovated 30,500 sq ft facility, consisting of 2 floors with expanded service to include 3 enclosed service lanes and 21 service lifts plus a state-of-the-art customer lounge with Wi-Fi access, refreshments and a Honda information center. In October 2013, the iconic Curry Chevrolet dealership in Scarsdale, NY gets a facelift and is fully renovated to include a large, comfortable customer waiting area by the service department. In 2015 Curry Automotive acquires two Mercedes-Benz Centers and a Toyota dealership in the New York Tri-State Region. Mercedes-Benz of Wappingers Falls and Mercedes-Benz of Danbury, both with their Sprinter commercial vehicle line ups, plus Curry Toyota in Watertown, Connecticut bringing the total to 15 in the Curry Family of Dealerships. In the acquisition, Curry Automotive also obtained two state of the art body repair shop facilities: Silver Star Auto Collision located in Danbury, CT and Storm Auto Body, located in Watertown, CT. In making the announcement, Mr. Curry stated, "When we became aware of the availability of two successful luxury franchises representing the top Luxury Brand in the Country, we felt it was a great addition to our portfolio of dealerships. We have always operated our dealerships with the high-line mentality by offering the ultimate customer experience whenever a guest enters one of our dealerships." The Mercedes-Benz Centers are among the best there are in award winning customer service. The Toyota dealership is situated in a brand new state of the art facility in a rustic New England community neighboring New England's ninth largest city, Waterbury. In the fall of 2016, Curry Automotive starts selling the newly independent Genesis brand as its own franchise at the Toyota, Hyundai, Subaru lot of dealerships in Cortlandt Manor, NY.
In the fall of 2017, the Toyota, Hyundai and Subaru dealership buildings in Cortland Manor, NY are approved as green LEED®-Certified Car Dealerships. In December 2017, renovations were completed on the expanded and rejuvenated Curry Acura building in Scarsdale, NY. Upgrades include top of the line amenities like a large brand new service drive and new ultra-modern showroom, plus more customer friendly updates such as a café, a new customer lounge and a quiet lounge.